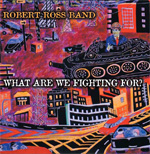 What Are We Fighting For?
"What Are We Fighting For?" was released on Election Day of 2004.

In uncertain times, often artists are the ones who point the way. Such a time is the present.

In this regard, the Robert Ross Band points us in a direction where we reflect and ponder the government's highly suspicious actions taken in the aftermath of national tragedy.

In the spirit of Michael Moore's current film, "Fahrenheit 9/11," Robert Ross serves up a collection of politically charged songs meant to stir and expand the debate of current American foreign policy. In doing so, Robert Ross and his band bring powerful emotions and humor to the proceedings, all the while maintaining an uplifting view of healing and cooperation.

The record kicks off with the title track, "What Are We Fighting For?" a scathing indictment of American policy in Iraq. With "One Man One Vote," the Robert Ross Band questions recent election day practices and their implications. "Fee Fie Foe Fum" rocks out on an Orwellian global view, and "We Are One" closes the disc with a gospel touch, a paean to brotherhood and understanding.

In these uncertain and politically heated times, we need artists such as Robert Ross.

CREDITS:
Executive Producer - Rafael Fuentes
Producer - Robert Ross
Engineer - Mark Dann
Recorded & Mastered at - World Studio, NYC
Cover Art - Ed Rath, Brooklyn, NY ("Economic Stimulus Package") Check out Ed's work at: www.salinaartcenter.org/narrativ/edfr1.htm
Back Cover Photo - Robert at Herald Square, NYC on 9/11/03 - Rido Pin (thanks to Raphael Alvarez)
Additional Art Work - "Oil Pump Vulture" by CounterFEET (http://subvertise.org/details.php?code=199);
"Land Of The Free", and "Bush The Puppet" by Matt Moore (http://mattmoore.ma.cx); "God Bless America" by Rand Careaga/salamander.eps "Diebold Variations" (http://homepage.mac.com/rcareaga/diebold/adworks.htm)
Graphics - Scott Johnson

Special Thanks To: Mermaid Hawley, Ed Rath, Rafael Alvarez, Adam Levine, Mark Dunmire,
Dred-Scott Keyes, Jon Spector, Angello Olivieri, Michael Lesser Esq., WBAI.org, AirAmericaRadio.com, DemocracyNow.org, Subvertise.org, Jon Narucki, Naomie Ross, Jeremy Ross, Jolie Hogan, and Mom.

For more information about FountainBleu Records, please visit: www.fountainbleu.com

Dedication: This CD is dedicated to those who died, and those who cried, but not those who lied.

We still cling to the hope that peace will come to the planet.

Support democracy in America, vote for the candidate of your choice.

Support the troops on the front lines, bring them home safe. Also, don't put them in harm's way unless it is absolutely necessary, and don't cut their veteran's benefits after they have served their nation with honor.

Disclaimer:
*The views expressed on this CD do not necessarily represent those of persons in possession of it.
** Thanks to the First Amendment to the Constitution, you can play this CD in the United States of America. So far.
****This CD may be banned or classified as "Top Secret" at any time for reasons of national security. Order now!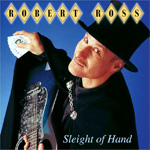 Sleight of Hand
Our FountainBleu CD "Sleight of Hand"

Released in 2002, "Sleight of Hand" is a combination of the best tunes from two previous Robert Ross cds, "Darkness... To Light" and "Rockin' The Rails".

All the tunes on "Sleight of Hand" were remastered by Dennis Ferrante who did all the Elvis reissues and box set and also worked with John Lennon. Dynamic Dennis did an incredible job enhancing the sound of these recordings. You will find that the music sounds warmer and deeper in the low register, and sweeter in the high register. We are very excited. The tunes sound better then I ever thought possible. No wonder Dennis was chosen to work with The King and that lad from Liverpool.

Karen Farber did a wonderful job with the photography. She and her crew were a joy to work with. You know, posing for hours at a time under white hot lights isn't exactly my idea of a good time, but somehow Karen made it fun. More importantly, the cd looks every bit as good as it sounds, and it sounds fabulous. The pictures are colorful and eye catching. Nice shooting shutterbug!

John Narucki wrote the liner notes for "Sleight of Hand" and came up with the phrase ".... a musician's job consists of putting a big heavy black box (called an "amp") in the back of his car, hauling it halfway across town, and trying to coax magic out of it. And one of the the master wizards of New York is Robert Ross." This magical little turn of phrase led us directly to the CD title, "Sleight of Hand." John has always had an uncanny facility with words as well as a deep appreciation for musicians and the music they make. John has been a great pal of mine ever since his days as a deejay with WFMU FM in the late 1970s. He is currently with Power Play TV doing video production. John has not been feeling well lately and our prayers and good wishes go out to him.

"Sleight of Hand" features two powerhouse rhythm sections performing with Robert. The unit of Mark Dann on bass and the late Howie Wyeth on drums appear on 8 cuts while Charlie Torres on bass and George Morales on drums appear on 5 cuts. Mr. Wyeth also plays some outstanding piano on 5 cuts. Robert wrote ten of the thirteen songs on the CD, and they are all gems. His singing and guitar work are beautiful throughout. The record rocks. Blues, blues rock, rock 'n' roll and more blues.

Fountainbleu Records is wasting no time promoting this fine CD. Although "Sleight of Hand" has not yet been officially released, Rafael Fuentes, the hard working president of the label, has already placed an ad which appears on page 87 of the April/May issue of Blues Revue Magazine to promote it. The ad also features the new Felix Cabrera and Doña Oxford CDs also available only on Fountainbleu Records.

CREDITS:
Tracks From "Rockin' The Rails" - 5, 7, 10, 11, & 12
George Morales - drums, and background vocals
Charlie Torres - bass, harmony and background vocals
Robert Ross - guitars, and lead vocals
Executive Producer - Lou Holtzman
Producers - Nick Prout, Robert Ross
Engineer - Nick Prout
Recorded at - East Side Sound, 98 Allen St., NYC

Tracks From "Darkness .... To Light" - 1, 2, 3, 4, 6, 8, 9, & 13
VOCALS: Robert Ross
BACKGROUND VOCALS: Robert Ross and Mark Dann
GUITARS: Robert Ross (including electric, acoustic and slide guitars)
BASS: Mark Dann
DRUMS: Howie Wyeth
PIANO: Howie Wyeth
ORGAN: Robert Ross
EXECUTIVE PRODUCER- Paul Rothstedder
PRODUCERS: Mark Dann and Robert Ross
ENGINEERS: Mark Dann, Jack O'Hara
MIXED BY: Mark Dann with Robert Ross
RECORDED AT: World Studio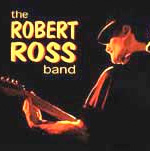 It's Alive! — Also Called "Lightness... to Dark" In Europe.
A 1999 Brambus release of a 1994 live show recorded in an NYC blues bar called Dan Lynch's. Features Howie Wyeth on drums, and Mark Dann on bass, as well as Robert Ross on vocals and guitar. A fine collection of classic covers by some of the great blues and R&B masters except for two original instrumentals.

*Original Songs

CREDITS:
GUITARS & VOCALS: Robert Ross
BASS: Mark Dann
DRUMS: Howie Wyeth
PRODUCERS: Mark Dann and Robert Ross
ENGINEERS: Mark Dann, Jack O'Hara
MIXED BY: Mark Dann with Robert Ross
PHOTOGRAPHY - KB
RECORDED BY - Dave Moshensi & Mark Dann
MIXED & MASTERED BY - Mark Dann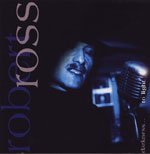 Darkness... To Light
A 1996 mostly studio recording also released on Brambus Records in Europe. A mix of blues and rock 'n' roll originals with only 2 covers featuring Howie Wyeth on drums and keyboards, and Mark Dann on bass as well as Robert Ross on vocals and guitar. Recorded at World Studios in NYC.

CREDITS:

VOCALS: Robert Ross
BACKGROUND VOCALS: Robert Ross and Mark Dann
GUITARS: Robert Ross (including electric, acoustic and slide guitars)
BASS: Mark Dann
DRUMS: Howie Wyeth
PIANO: Howie Wyeth
ORGAN: Robert Ross
EXECUTIVE PRODUCER- Paul Rothstedder
PRODUCERS: Mark Dann and Robert Ross
ENGINEERS: Mark Dann, Jack O'Hara
MIXED BY: Mark Dann with Robert Ross
RECORDED AT: World Studio
PHOTOS: (Paul, DEPENDING WHAT IS FINALLY CHOSEN , INSERT ACCORDINGLY)
GRAPHICS: (all yours again Paul)
LINER NOTES- Robert Ross

Rockin' The Rails
A 1991 studio recording released on my own Blue Planet Records. The CD consists of blues originals and covers featuring George Morales on drums, and Charlie Torres on bass. Recorded at East Side Sound in NYC.

CREDITS:
George Morales - drums, background vocals
Charlie Torres - bass, harmony and background vocals
Robert Ross - guitars, lead vocals
Executive Producer - Lou Holtzman
Producers - Nick Prout, Robert Ross
Engineer - Nick Prout
Recorded at - East Side Sound, 98 Allen St., NYC
Mastered at - Masterdisk (Howie Weinberg)
Manufactured at - LRP Productions, 32 W.22 St., NYC
Cover concept - Buddy Ray and Robert Ross
Photography - Buddy Ray
Graphics - Kevin Cramer and Mark Dann
Retoucher - Howie Zemzer
Special Thanks to: Lou and Mimi Holtzman, Nick Prout,
Richie Bittner, Michael Lesser Esq., Pat Goldsmith,
Patrick Quinn, Jon Narucki, Collen Heng, Emily Kaufich, Rafael Alvarez, Marv "The Moth" , Mark Dann,
Buddy Ray, Kirk Yano, R.J., and Jon Specter, without whom this project would not have been realized.
for Dad

Introducing Robert Ross
A four song CD originally released on Baron Records out of Massachusetts in 1981. Featuring Mark Dann on bass, and George Morales on drums. Also includes harmonica player Spencer Jarrett on one song. It probably could benefit from a remix as there isn't enough low end for my current taste. But the songs are good and this is my very first solo recording. Originally on vinyl, it is almost fifteen minutes long and it is very bluesy. Combined into one CD with "It's Rough 'n' Tough."

CREDITS:
George Morales - drums
Mark Dann - bass
Robert Ross - guitars, lead vocals
Spencer Jarrett - harmonica on 69 Chevy
Executive Producer & Producer - Robert Ross
Recorded at - Hometown Recording Studio, NYC, 1981
Photography - Beatrix Ross
Released originally on Baron Records