June 6th, 2010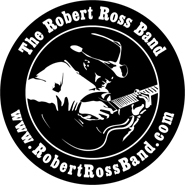 ROBERT ROSS BAND
Website: www.RobertRossBand.com
Quote: "A blues icon. One of the great blues spirits." Bob Fass (Radio Un-nameable, WBAI-FM Pacifica Network).
---
---
A lot is going on.
1. We have some terrific gigs coming up this week in some awesome venues in NJ !!
2. The website has been redesigned by Naomie Ross, a gifted graphic artist, and my daughter !!
3. We have uploaded a bunch of new YouTube videos !!
==============
Upcoming Shows
This week on Tuesday and Saturday we are playing in New Jersey. Come out and have a good time.
==============
New Website Design
There are places for you to comment, like on a blog. Great job Naomie. There will be more content changes in the weeks ahead.
==============
New Videos
From October 3, 2009 at The Somerset County Vocational and Technical School Theatre The videos were shot by Dean Osterman. The band features: Herb Ford on drums, Jon Loyd on keyboards & vocals, Mark Dann on bass, and Robert Ross on guitar, slide guitar, harmonica & vocals.
Pickin' The Blues: http://www.youtube.com/watch?v=kW3ft9c8M64
Mr. Jelly Roll: http://www.youtube.com/watch?v=8NI6x5DCSzo
Rambling On My Mind

:

http://www.youtube.com/watch?v=CbSB7Urek9w
Love In Vain: http://www.youtube.com/watch?v=Sv0-_SRUV_o
Statesboro Blues: http://www.youtube.com/watch?v=hbdOTL5RZ4k
I Am Ready: http://www.youtube.com/watch?v=8IF1zhZUdJ
Boogie Chillen: http://www.youtube.com/watch?v=Ni6Ju5pbEdg
Walking Blues: http://www.youtube.com/watch?v=t6WzTciQEdE
Hard Times

:

http://www.youtube.com/watch?v=Hox5Wd4fsz8